It has been a fantastic summer for us at The Lorelei. We have been pretty busy (by our standards) and 2013 has seen the return to a few old haunts as well as a welcome assault of some fantastic new venues and events. Here is a bit of a run down of what's been going on.
It all began for us at Aberdeen Musicfest back in May. It was our debut at this event and what a great night it was. Hundreds of people crammed in to both stages of The Tunnels enjoyed a vast range of acts from the sublime acoustic to classic rock to the bizarrely wonderful. This even was significant in us kicking off our summer as it so the introduction of 3 brand new tunes to our set, Bastard Child, Glowing and Walking Home (which introduced Beefy's bouzouki playing to the world).
Having bedded in the new tracks we embarked on our Capital cities tour on another of our Fat Hippy Records adventures. Well, we say tour. It was two gigs. And we say capitals but we managed to forget Cardiff (sorry Wales). That aside, it was a cracking couple of gigs and a very successful return trip to London with a gig at the legendary Half Moon in Putney. That was followed by a great night at Bannermans in Edinburgh and an evening of frivolity with our touring companions Craig John Davidson and Dirty Shoes. Read all about this trip in our 3 part blog!
This years highlights of the festival season for us had to be Speyfest and Belladrum. Speyfest is a festival we have long wanted to be involved with and finally this year it came off for us with not 1 but 2 sets! On one of the summers hottest days in the North East we got the tent nice and sweaty with an afternoon 'warm' up then followed that with a rip roaring set in the evening to a receptive bunch of new friends and fans. Have a read about our Speyfest adventure.
From a brand new festival for us we then moved on to a very familiar one. Belladrum is one of the main reasons we got back together after we all met up there after a 9 year hiatus. We have been back a few times since and were honoured to be asked to perform at their 10th anniversary. This time round we did a (semi) acoustic set but that made it no less raucous and the crowd who turned out on that Saturday evening were whipped in to their usual frenzy. As always we are sincerely hoping to get back to Bella in 2014 as well as a repeat performance at Speyfest.
In other new experiences in the summer 2014 we began to hit rural Aberdeenshire a lot more. We were lucky enough to be asked to play with Donnie Munro of Runrig at Inverurie Town Hall and also made our debut in Macduff at the Arts Centre there. This was a great introduction to Macduff for us with another enthusiastic crowd of new followers joining us in one of the coolest looking venues we have played………oh how John enjoyed singing from the pulpit!!!!!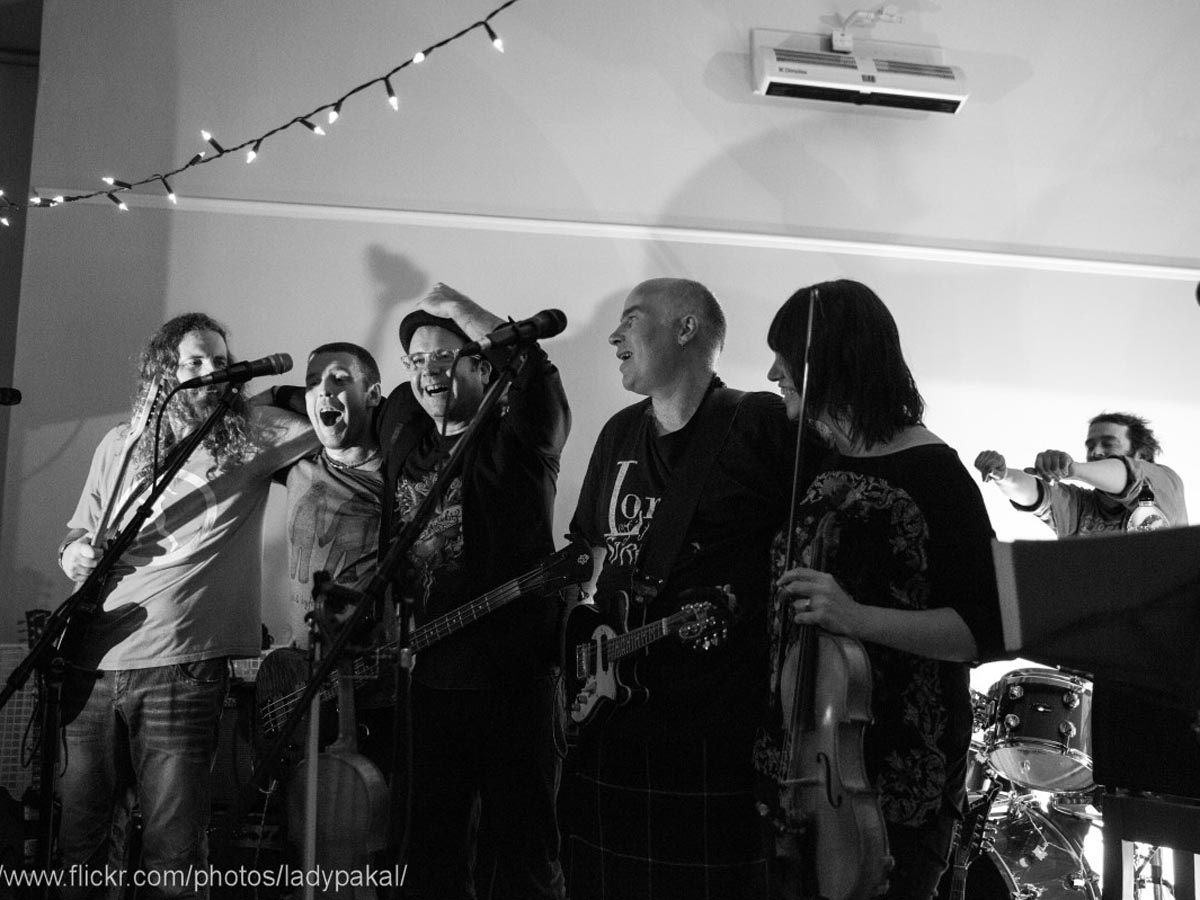 Our summer was rounded off with a very special Evening with The Lorelei in Oldmeldrum Town Hall. We had often talked of putting on a small, intimate gig somewhere locally and we settled on Beefy's home town for this even (no pressure Beef!) We wanted to put something on where fans of the band could see us up close and personal. The initial limit of 50 tickets sold out in no time and we managed to negotiate an extra 20 which also sold out prior to the night. With 70 people crammed in to Oldmeldrum town hall we treated them to a sublime set from Craig John Davidson followed by 2 hours of old, new and very new tunes from ourselves. We could maybe have done with a bit more space and a dance floor would have been nice but it was one of our highlights of the year and are hoping to make it an annual event. We hope those of you who got tickets enjoyed it even half as much as we did. If you missed it take a look at the nights shenanigans.
So that was the summer of 2013 in a nutshell. We hope you had as much fun as we did. With new tracks in the pipeline and plans for work to begin on a new album shortly we are looking forward to a productive last quarter and 2014. Thank you all for coming out to support us, and thanks to all the new people who have helped us along the way. We couldn't do this without all of you.
Finally, we can't sign off without an enormous thank you to Captain Tom for his continued support and contribution. We will be eternally grateful for everything you have done for us.
See you all at The Lemon Tree on December 20th.