The sun has finally come out and festival season is well and truly on the way. Whilst we are in the final stages of confirming our summer program we thought we would share some of our favourite memories of festivals gone by.
Through the years we have been fortunate enough to play at many festivals throughout Scotland. They have all been great but there have been some real stand out moments.
Belladrum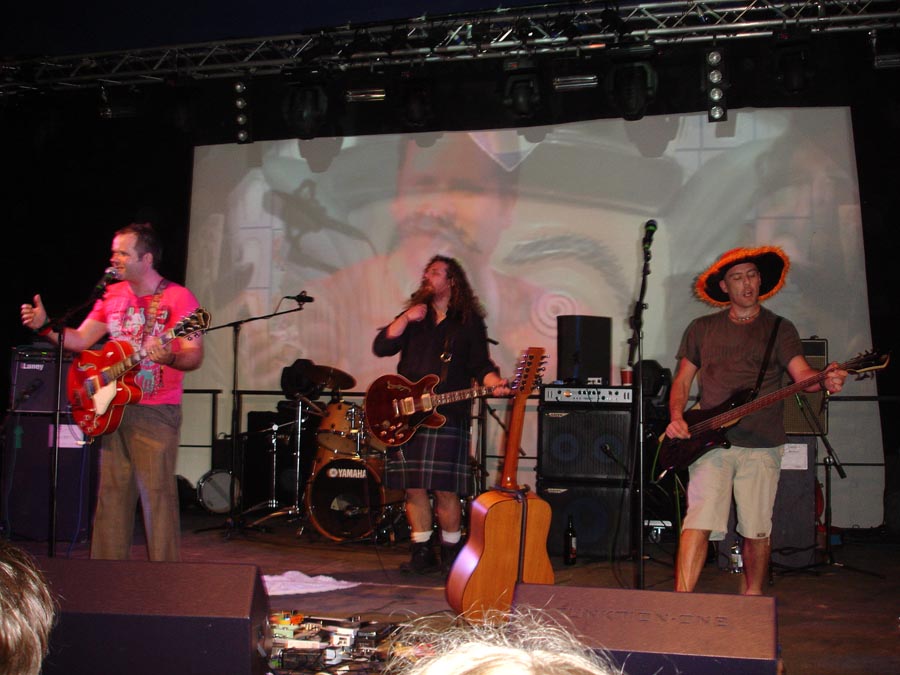 Having reformed as a result of a meeting at Belladrum in 2005 we were privileged enough to open the festival in 2007. It was probably the most nervous we have been before a gig in a long time, (Beefy nearly legged it through nerves before the gig!) but we had a fantastic crowd that day and set us up for an amazing weekend and the beginning of a long Belladrum love affair! We actually played twice that year, with a show in the Potting Shed on the Saturday. Unfortunately no-one told Jonny about this 2nd gig and by the time it came he was a little worse for wear and would probably rather forget about it (although no-one is convinced he can remember enough of it to forget!)
We returned to The Potting Shed in 2011 at a Bella that, much to eveyone's surprise turned out to be the start of Jonny's honeymoon having stopped off at Gretna en-route. Another great weekend was had. The sun was beating down on Bella that year when we arrived and it managed to stay out until about 10 mins after we completed our set.
See World hotel from out 2007 appearance here
Wizard
We were also fortunate enough in 2007 to appear at the first ever Wizard Festival. It was another early slot for us at this event but, again, we were blessed with a fantastically enthusiastic crowd and we have never seen John display such boundless energy before or since. He is always very lively on stage but this one really got to him as he spent the whole set bounding across the length of the stage!
We were asked back in 2009, this time with the wonderful Captain Tom standing in on bass, and nothing could have prepared us for the response this time. The marquee was packed with bodies from front to back with every single one of them loving every moment. I don't think we have ever seen such a crowd response on that scale and it will live with us as one of out many festival highlights.
Loopallu
This one is very special. Way up north on the west coast of Scotland, late in September, exposed on the edge of a sea Loch. It has all the ingredients of being a cold and wet weekend. Even if that is the case this has to be one of our favourite festivals around! The setting is just stunning, the bands are always great and the crowd is like nowhere else.
We have been lucky enough to play the fringe here 3 times, over both nights each time, and have played and partied away in to the wee small hours with the biggest bunch of music lovers we have come across in the UK. We may be getting on in years but it is one of the few places that will see Keith and Beefy still manage to stay up until 5am.
Everything about Loopallu suits exactly who we are and we hope to continue our regular slots there for years to come….maybe even hitting the main stage one year!
These are three of our favourites but we don't want to do a disservice to the others that have been generous enough to take us on their bills. We have so many fine festival memories and hope to have more for years to come, hopefully starting this summer with some imminent confirmations.
One that we can already confirm is Speyfest that we are very excited to be doing for the first time http://www.thelorelei.co.uk/gigs/speyfest/
Please share your memories with us, would be great to hear what your Lorelei festival highlights are!